Vi fick två amerikanska band på Pusterviks stora scen måndag 27 augusti inför kanske 200 pers. Lite annorlunda än vad jag och många med mig trott då det var annonserat att de skulle vara på övervåning och inte var det heller klart för mig att de hade varsitt band, Detta hade ju inte heller funkat däruppe med den volym de båda ville ha.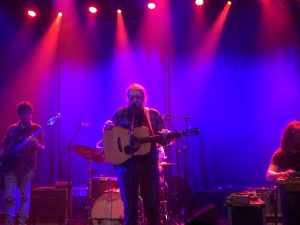 Först en timma med David Ramirez från Austin, sedan cirka 90 minuter med Tyler Childers från Lexington,Kentucky. De hade helt olika band och David som ju i maj 2016 gjorde en solospelning uppe i Pusterviks matsal hade tagit med sig killar som rockade rejält. Ett band som kallades The Hard Luck och där gitarrist och pedal steel-man var skicklige Simon Pegg. Volymen dock inte anpassad för mina öron med en sisådär trummis.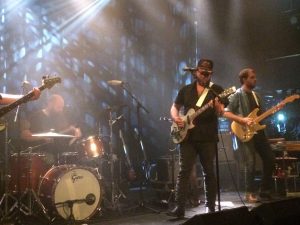 Men det var också en del riktigt bra när man väl hörde texterna som ju är så fina och personliga på senaste albumet, hans fjärde och som är betitlat We´re Not Going Anywhere.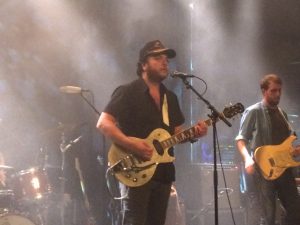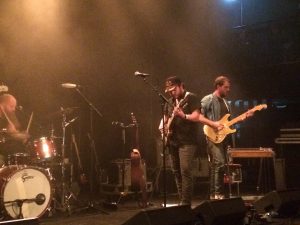 Tyler Childers hade mer njutbar volym och mer country med steel och mycket fiddle. Udda framtoning med lite av Sturgill Simpsons stil och hans sätt att presentera låtar och bandmedlemmar lät han som en auktions-uppropare.
Tänk om han bara hade skippat trummor och bas och spelat uppe i matsalen. För här fanns verkligt bra låtar emellanåt, De tre sista låtarna med bara Tyler och hans fiddlare var fantastiska. Konserten tände till från covern av Shel Silversteins I Got Stoned And I Missed It. De spelade i cirka 85 minuter.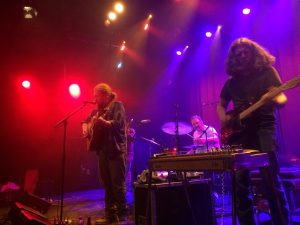 Låtlistor med tack till Bo Olsson
—————————————–
DAVID RAMIREZ & THE HARD LUCK
Watching From a Distance
People Call Who They Wanna Talk To
Stone Age
Harder To Lie
Mighty Fine
Time
Communion
Good Heart
Twins
How Do You Get Em Back
Hold On
Eliza Jane
Wandering Man
TYLER CHILDERS BAND
Whitehouse Road
Deadman´s Curve
Tattoos
I Swear (To God)
Honky Tonk Flame
Take My Hounds To Heaven
Feathered Indians
Born Again
Charlston Girl
You And I
I Got Stoned And I Missed It
Follow You To Virgie
Universal Sound
Bus Route
Banded Clovis (Solo + Fiol)
Lady May (Solo + Fiol)
Nose On The Grindstone (Solo)