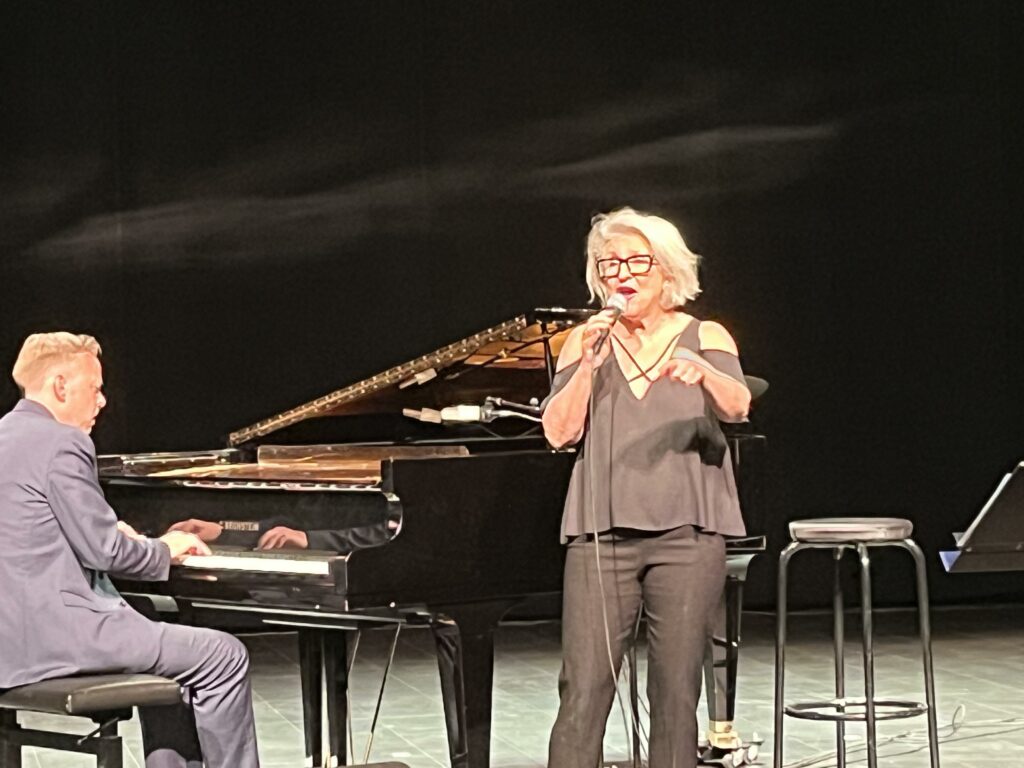 Janis Siegel kom med pianist Mattias Nilsson till Dergårdsteatern i Lerum denna 16 juni för en finstämd jazzkonsert. Hon har en solokarriär sedan 80-talet men är ännu med i the Manhattan Transfer. De firar 50-årsjubileum i år och hon berättade nu att de kommer till Göteborg i november.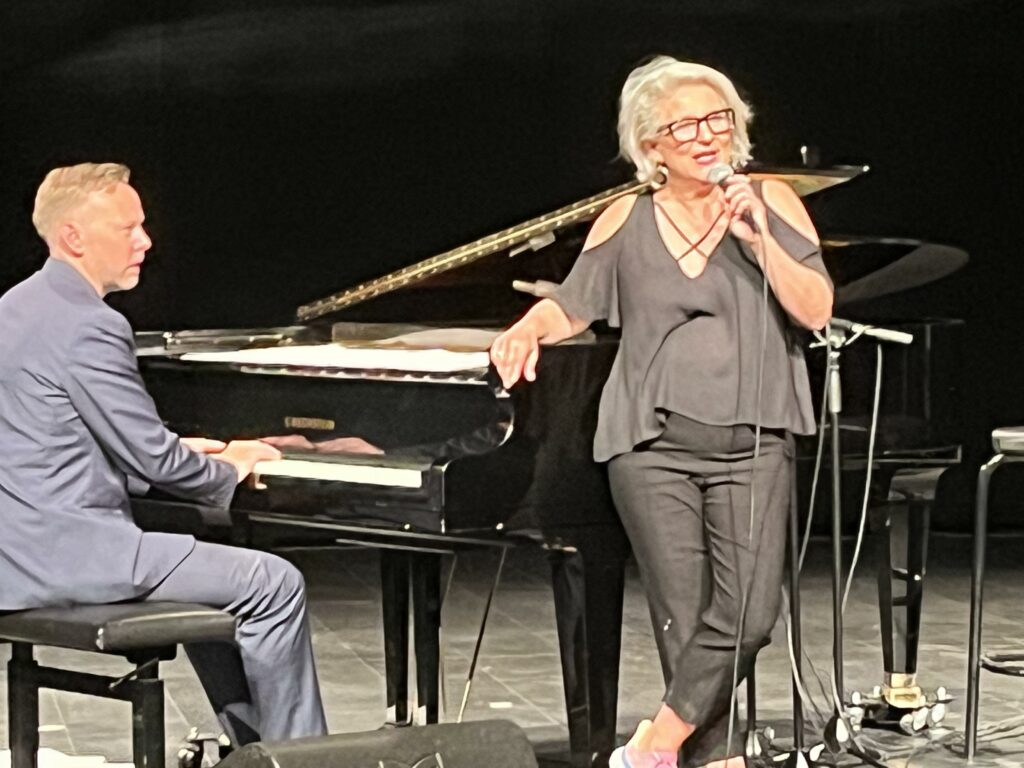 Janis har en skön röst och excellerar i sin kända vocalese-stil i många nummer. Mattias gjorde före paus två sololåtar i bästa Keith Jarrett-anda – den första av Marian McPartland och den andra egen – för att börja andra med mer filmiska egna Spirea, Han gjorde under andra set även en fartfylld I Wish I Knew.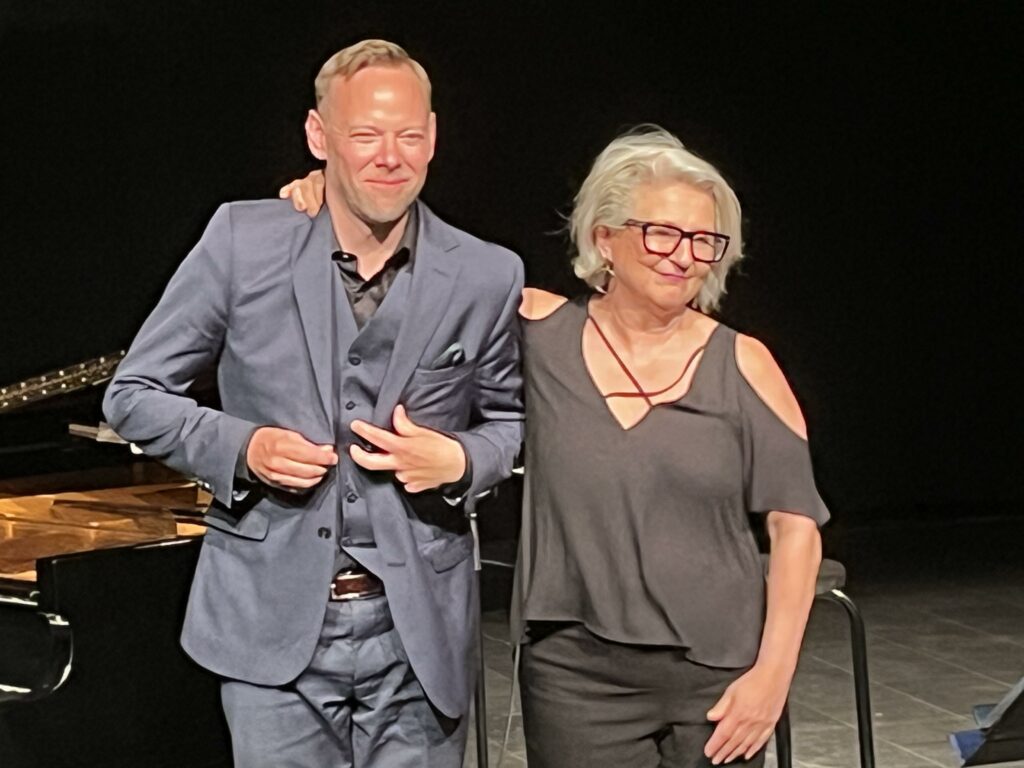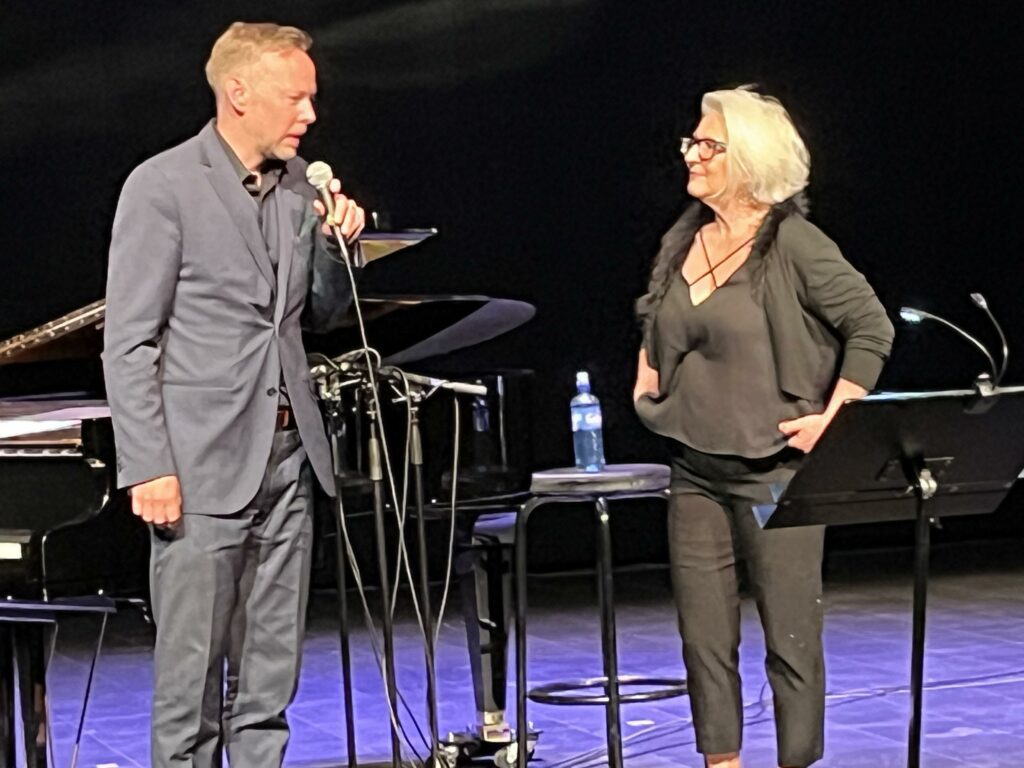 Bland toppar med Janis annars var Don´t be Scared, The Shining Sea och standards som Skylark, Lucky To Be Me och In A Mellow Tone . Det hela blev till 48 min. plus 57 min. inför ca 100 personer och konserten spelades in av Sveriges Radio P2 för sändning senare i år. Som synes på den låtlista jag fick av Mattias Nilsson var det en kväll med helt suverän repertoar som passade dem perfekt.
1.01  I KNOW THE WAY TO BROOKLYN Music: Eddie ARKIN | Lorraine FEATHER
1.02  YOU'RE MY EVERYTHING Music: Harry WARREN | Lyrics: Mort DIXON / Joe YOUNG
1.03  IN A MELLOW TONE Music: Duke ELLINGTON | Lyrics: Milt GABLE
1.04  DON'T GET SCARED Music: Stan GETZ | Lyrics: Jon HENDRICKS / King PLEASURE
1.05  Piano solo: A DELICATE BALANCE Music: Marian MCPARTLAND
1.06  Piano solo: HYMN TO LOVE Music: Mattias NILSSON
1.07  THERE'S A BOAT THAT'S LEAVIN SOON FOR NEW YORK Music: George GERSHWIN / DuBose HEYWARD | Lyrics: Ira GERSHWIN
1.08  SHINING SEA, THE Music: Johnny MANDEL | Lyrics: Peggy LEE
1.09  THAT'S MY STYLE Music: Cy COLEMAN | Peggy LEE
2.01 Piano solo: SPIREA Music: Mattias NILSSON
2.02 LUCKY TO BE ME Music: Leonard BERNSTEIN | Lyrics: Adolph GREEN / Betty COMDEN
2.03 SKYLARK Music: Johnny MERCER / Lyrics: Hoagy CARMICHAEL
2.04 BEING WITHOUT YOU Music: Cy COLEMAN | Alan BERGMAN / Marilyn BERGMAN
2.05 POSSIBLE ME, THE Music: Kirk NUROCK | Lyrics: Janis SIEGEL
2.06 EVERYTHING I´VE GOT (BELONGS TO YOU) Music: Richard RODGERS / Lyrics: Lorenz HART
2.07 Piano solo: I WISH I KNEW HOW IT WOULD FEEL TO BE FREE Music: Billy TAYLOR
2.08 MILLION DOLLAR SECRET Music & Lyrics: Jules TAUB / Helen HUMES
EXTRANUMMER;
JOY SPRING Music: Clifford BROWN | Lyrics: Jon HENDRICKS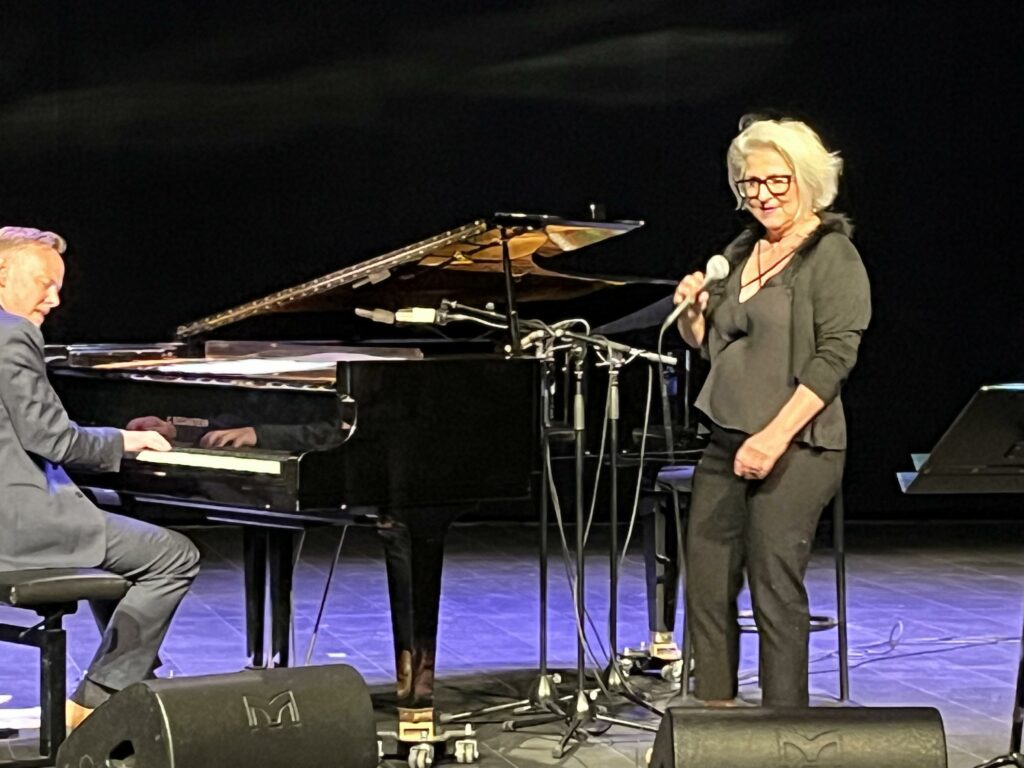 Jag fick träffa Janis kort efteråt och på min fråga om favoritsångerska kom svaret blixtsnabbt, Ella Fitzgerald. Hon mindes mycket väl den första gången hon kom till Sverige när The Manhattan Transfer sjöng på klubben Atlantic i Stockholm 1975. Själv såg jag dem första gången i Konserthuset, Göteborg 1977.