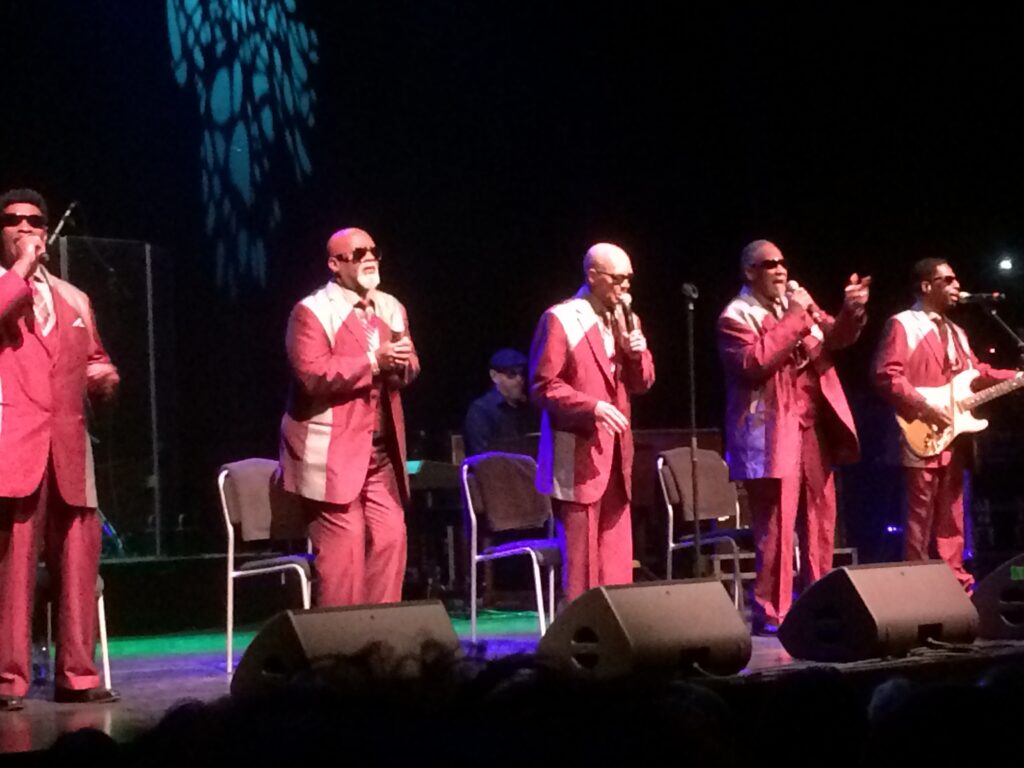 Gospelfest med gubbarna i The Blind Boys Of Alabama. En legendarisk grupp ledd av 87-årige Jimmy Carter som kom med den sättning som funnits nu under 2010-talet,  Ricky McKinnie, Paul Beasley, Ben Moore and Joey Williams. Plus tre musiker, en basist, en trummis och en keyboardist.
Gruppen gjorde sin första skiva för hela 70 år sedan och har varit kända i gospelvärlden genom åren, men fick en bredare publik efter de fantastiskt välproducerade albumen på Real World Records ; Spirit of the Century (2001) och Higher Ground (2002). Det är också en del av låtarna från dessa vi hörde den här kvällen.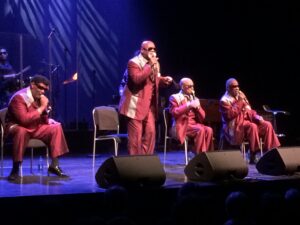 Samt ur albumet Almost Home från 2017, deras då första på tre år. Producerat av John Leventhal, känd från sina skivor med hustrun Rosanne Cash bl.a. Leventhal och ingen mindre än Marc Cohn har specialskrivit tre låtar till det albumet, Bl, a God Knows Everything.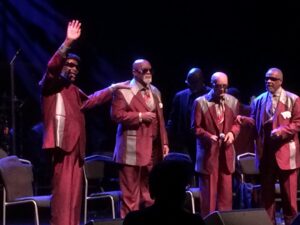 Senast de var i Göteborg på Konserthuset 2009 var även den andre åldermannen Clarence Fountain med, men nu har han tvingats sluta turnera vilket gör att James Carter tagit över ensam som presentatör, Han har några härliga mellansnack och tar i rejält med sin röst emellanåt, Han vilar under varannan låt ungefär, men när han väl satsar så är det med kraft nästan som James Brown.
Vi fick 75 minuter och stort bifall inför en publik på cirka 500 personer. Bäst kanske Amazing Grace som blandades med melodin och delar av texten till The House of the Rising Sun och en svängig I Shall Not Be Moved. Bäst tryck i avslutande Stevie Wonder-låten Higher Ground där Jimmy Carter leddes runt i salongens korridorer vilt sjungande. Gospelyra minsann.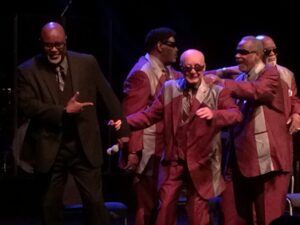 —————————-
Spirit In The Sky
God Said It
I May Not Can See (skriven av bandmedlemmarna Damon Little och Eric"Ricky" McKinnie)
God Knows Everything
Stand By Me  (Inte Ben E. King-låten, utan egen skriven av Clarence Fountain)
Uncloudy Day
There Will Never Be Any Peace (Until God Is Seated At The Table)
I Shall Not Be Moved
Amazing Grace/The House Of The Rising Sun
Look Where He Brought Me From
————————————
Higher Ground